Let me tell you about Borneo…
Independent Weekend January 2015
A daring adventure into the wilds of Borneo where a Guinness ad saved my skin!
The younger me always dreamed of growing up and becoming a vet or a zoo keeper or ranger. It was all I ever wanted to be. Growing up in the Phoenix Park and virtually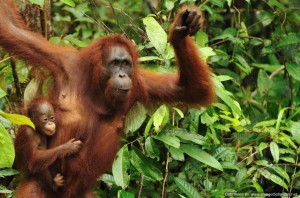 reared in Dublin Zoo, animals were my life. My mother will tell you that the house was a menagerie of rescued animals that needed overnight care – a poorly porcupine, broken winged doves, baby rabbits, rescued hedgehogs and many others. When I sat my leaving cert instead of heading off on a gap year I spent the summer in quarantine in Dublin Zoo helping to mind two baby lowland gorillas that had just arrived – Yinka and Gori. Anyway I ended up doing nursing in Scotland swapping animals for humans and went on to do journalism at 23 and the rest is history. Except that the frustrated animal fanatic in me is always yearning to escape. I am just back from three weeks in the wilderness of Africa – tracking leopards and wild dog in the Eastern Cape and seeing the migration of wildebeest first hand in the Serengeti. It was a mad last minute notion to start 2015 with a great adventure with Dara (my 16 year old son) and of course the more close encounters I could manage with animals the better. Dara is well used to me pulling him off on escapades and my next trip is to see the gorillas in Bwindi in Uganda – as he constantly reminds me it's called the Bwindi Impenetrable Forest for a reason…But he didn't accompany me on one of the greatest and most reckless adventures of them all when back in 1994 I took a last minute notion to visit the orangutans of Borneo. It was only my Irishness that saved me. At the time I was doing a PhD at the University of Wales and had got used to travelling with the academics to present at various conferences. So when the Sultan of Brunei hosted a conference and I was on the ticket I jumped at the chance. It was only five days but on the way over I was studying the map of East Malaysia and the sovereign state of Brunei (we were headed for Darussalam) and realised that it was on the Island of Borneo. A favourite book from my younger days was about the Old Man of Borneo (the orangutan) and they always fascinated me. I hatched a plan to do all I could to get there even if it meant a day trip. So I cajoled one of the interpreters to find me a travel agent who could book me flights to get to Sabah in the northern part of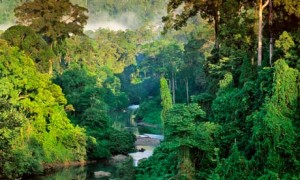 the island. But to get there I had to leave at 5am and fly to Kuala Lumpur and then catch a flight to a tiny airport called Sandakan and I wouldn't arrive until early afternoon. I didn't have the right clothes, hadn't worked out what I would do when I got there. I had an address for the oldest orang-utan sanctuary called Sepilok, I knew it was around 25 kilometres from the airport. So at 5am dressed in a skirt and white shirt looking like I was about to give a lecture rather than head to the rainforest I left the hotel without telling any of my academic colleagues. They already saw me as the wild Irish one who took far too many risks and I knew they would try and talk me out of it. The flights worked perfectly, when I got to Sandakan I hung around until a local agreed to take me in his car to the rainforest for a fee. He dropped me and I met the ranger – the sole occupant of a hut at the entrance to the sanctuary. He motioned for me to go ahead and walk around, view the orang-utan platforms and walk through the mangroves. I was in heaven spending time with these wonderful peaceful almost human like apes and lost all track of time. I fell over in the mangroves a few times because of the ridiculous shoes and my lovely skirt and shirt ensemble was covered in mud and me with scratches and bites. Still it was one of the best experiences of my life and I am still transported there as I write.
So as dusk was falling I headed back to the hut only to find that the solitary ranger had packed up shop and gone home. I called out a few times with nothing but the orangutans answering back and realised I might have a problem. I started walking along a dirt track separating two sides of the rainforest – the light was fading fast and all kinds of alien noises were booming from the dense undergrowth. Only a few months previously a British Army expedition had got lost in Sabah for a month – they survived but it led to international headlines. And here was I in my skirt and heels looking like I had already been lost for weeks teetering along the edge of the forest with no mobile signal and not a plan in my head – and worse no one in the world knowing about my little escapade except for a non-English speaking travel agent I had only met once and didn't have any contact details for. I made a few bargains with God and heard the wonderful sound of an engine approaching – a forestry truck with a woman driver. I didn't have to flag her down, she slowed and motioned for me to get in – I suspect she didn't come across many lone women on that stretch of raod. In mainly sign language she said she would drop me at a cross roads where a bus would eventually come along but she didn't know when. She was cross I think, mainly because she spoke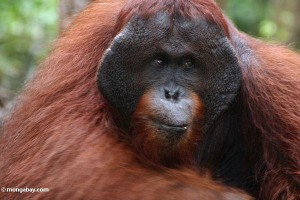 using her finger for emphasis – the way a mother would berate a child. The relief at being rescued was temporary as I tried to work out how far to the cross roads and how long to the bus and if I would make the two flights back – I was due the leave Brunei the following day. Just as I had given up hope we passed a bashed up sign of a Toucan – an old rusted Guinness ad and I pointed to it and said something along the lines of what on earth is a Guinness ad doing at the edge of a rainforest. She pointed at me and said – you are Irish? I nodded. She said – you are Catholic? I nodded again. She was now beaming instead of glaring at me and proclaimed that she too was Catholic – we both nodded smiling and I still had no idea why this was such a big deal. But as she drove she told me about the persecution of Catholics in Malaysia (only about 10% of the population and most living in Sabah and neighbouring Sarawak). The imposition of Islamic law on non-Muslims was a significant issue at the time. On the strength of our solidarity (I didn't mention my lapsed catholic status) she drove me all the way to the airport where she hugged me and grinned at the good fortune of meeting a fellow catholic from Ireland. The luck was all mine. I still to this day wonder what might have happened had we not come across that battered old Guinness sign. Good things do come to those who wait.