SPARK!
Norah publishe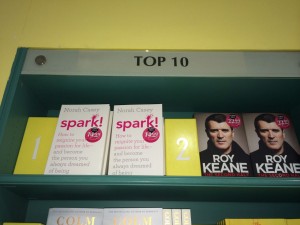 d her book Spark! in October 2015.
Part biographical and wholly motivational, between the pages you will find her own story of adversity and how she found a way through to reignite her own passion for live and along the way to help others do the same. Published by Penguin Ireland 2014: Order the ebook
Read a sample chapter: The Power of You.
When was the last time you were really excited about your life?
We set out in life believing we will achieve great things. But along the way self-belief fades and even if we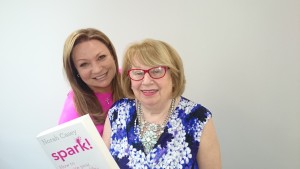 are happy, we may suspect that we have settled rather than really pushed ourselves. We let go of our 'youthful delusions'.
But youthful dreams don't have to be delusions! And right now is a good time to take stock of your life and to reawaken that younger self who believed you could set your mind to anything and achieve it. I discovered this the hardest way imaginable. I lost my husband shortly after he was diagnosed with cancer and was forced to take stock of my life. Despite my success in
business and high profile, I recognized that I had settled. So began a journey of self-discovery that forced me to reinvent myself.
I share my journey and the lessons I learned in Spark!. Drawing on a mix of personal insight and the wisdom of twenty years in business, I explain how we can renew our passion and our ambition and become the best we can be.
Put aside any pre-conceived notions: this isn't about blinding flashes of brilliance or razzle dazzle, you don't have to be super-clever or endlessly fascinating to recover your spark. But you do have to be prepared to work hard to be the very best you can be and to rediscover the more splendid you.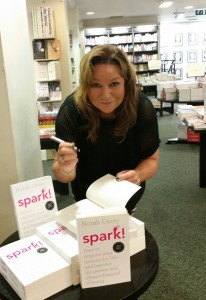 Spark! was a work in progress for most of the early part of this year. I was in danger of having the cleanest cupboards in Ireland in the first couple of months because to write this book I had to relive parts of my life that I had scarcely allowed myself to think about. There were mornings when I didn't have the courage to face the rawness of being back in the darkest moments of my life. There were days when I was so lost in that world that I didn't want to leave it behind. But I also knew that there was no avoiding that pilgrimage back in time. It was the catalyst for seismic changes in my life and I knew it was important to share it – no matter how hard that was. Without it I know that the story would only be half told. I would have been eternally grateful to anyone who had told me back then what I know now which is why I wanted to write it down
SPARK!
By NORAH CASEY
Published by Penguin Ireland 2014: Order the ebook
Interview with Barbary Scully – click here to read
An Overflowing Bookcase: Blog by Marie O'Neill recommending Spark!
Appearing on TV3's Late Lunch Live to talk about Spark!
An interview with RTE Ten on the launch of Spark!
And interview with Norah and her mum who features in Spark! for the Independent
Talking to the Irish Examiner about life after loss and her new book Spark!