[vc_row][vc_column][vc_column_text]
The Restaurant Show – RTE One
Four Stars on The Restaurant!
One of Norah's top selling magazines is the Irish foodie's bible 'Food and Wine', and perhaps as a result people always assume that she is always cooking up a storm in the kitchen.
"I'm not a day to day cook, people find that extraordinary, but I'm very busy, so in my home life you're very unlikely to find me in the kitchen, I'm always on the computer, or I'm working, or I'm late."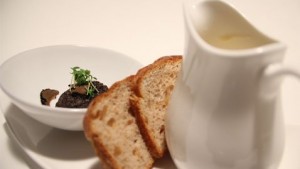 But Norah loves to cook for the big occasions, and when she does, she likes to experiment with new flavours – so for her visit to The Restaurant, she has created a very unusual menu.
For her starters Norah will serve Celeriac Soup with Shaved Truffle and a Quenelle of Portobello Mushrooms.
"I think the celeriac soup is so yummy and gorgeous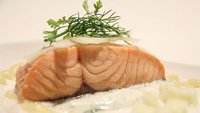 and delicious, it's the queen or king of soups. People don't often cook celeriac. It's got an unusual, slightly earthy taste, so it's lovely."
She will also serve Cured Organic Salmon, Poached in Cider with an Apple and Fennel Salad and Calved os Dressing.
"If I see salmon on the menu, I think boring – so I'm hoping to surprise with the apple and fennel."
For her mains Norah will serve Pan-Fried Hake with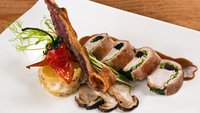 Chorizo, Kelp and Tomato Sauce and Vanilla Mashed Potatoes and a Braised Leg and Loin of Rabbit with a Chartreuse Sauce, and Barley and Buttermilk Orzotto.
"I love rabbit, it's one of the best meats, low in cholesterol, very low in fat – we don't eat enough of it. This dish is lovely. It's almost like a spring meadow to me when you put those things together."
The dessert section is Norah's favourite part of the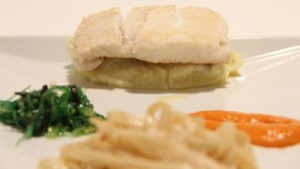 kitchen and here she is pushing the boat out by serving a Piña Colada Trifle and a Blackberry Soup with Liquorice Ice Cream.
"I think food should be a little bit of fun – especially desserts."
But Norah is taking a big risk with her liquorice ice cream, she knows that not everybody is going to love this taste as much as she does.
"Liquorice is like Marmite, you either love it or you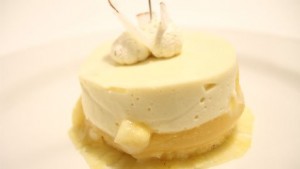 loathe it. If I have somebody like Paolo or Tom, and they hate liquorice – I'm finished!"
Norah demonstrates the steely resolve that has made her the successful businesswoman that she is, by taking risks with her menu. Will the critics reward this food entrepreneur at The Restaurant?
I would much prefer to be risky and to fail having taken a risk than to play it safe.
Check out the menu… ( or check out the food)
Read what the critics thought… [/vc_column_text][/vc_column][/vc_row][vc_row][vc_column width="1/1″][vc_single_image image="742″ img_link_target="_self"][/vc_column][/vc_row]