Welcome
I have a reputation for being a Dragon (the rarer female variety) but I am much nicer in real life. You might also know me as a magazine publisher and in more recent years as a television presenter, radio broadcaster and author. But I am also a widow, a single mum, a former nurse and a passionate advocate for social change towards that elusive dream of equality. I like to kickstart badly needed conversations through my writing or broadcasting whether it is in the area of racial prejudice, homelessness, women's rights or dying with dignity. I also believe in the power of enterprise and entrepreneurship. Everyone has the ability to be their own boss regardless of their social background, age or area of expertise. What drives me on is the belief that I can, in my own infinitesimal way, effect change. You are as likely to find me talking to a group of transition year students as MBA graduates. And my choice of television and radio programming will always reflect who I am and what I believe in. I wanted this space at norahcasey.com to curate and share stories, thinking and life lessons in the hope that it sparks a conversation with you, albeit a virtual one!

TedX Talk: The Cure for Grief
Meet Me in Person
My annual Women's Academy takes place in April this year in central Dublin. This year's theme is "One Day to Change a Lifetime" and I have a great line-up of inspirational speakers who will share their brain power with you. As always the Academy experience is quite different and that wonderful alumni of women who joined us for the inaugural event come back time and again to remain inspired and motivated in fulfilling their potential in life. This year why not join them. I promise you will leave transformed and ready to make 2016 the year that changes your life.



Click here to go to the Academy website for regular updates.
http://www.irishtatleracademy.com
Spark!
My story is no different to many. As a high achieving business woman I was by no means living life in the slow lane. I was at the helm of a successful magazine publishing company, a Dragon in Dragons' Den and an investor in many businesses here and in Great Britain. But one of those great side swipes in life, the death of my beloved husband (business and life partner), left me bereft. It forced me to reevaluate my future and to find another way to live life full on again. My book Spark! is the story of that journey but much more besides. I found a way, it may not be for everyone, but it was right for me and it triggered enormous changes and transformations in my life. The story of Richard and me and the aftermath is the backdrop to an incredible journey of discovery which owes more to science than anything else. Spark! has inspired many people to kickstart the rest of their lives and achieve all that they set out to achieve. I hope it does the same for you. Spark! was published by Penguin Ireland in October 2014. Click here for an online version and a sample chapter appears in my writing section of this website.
http://www.amazon.com/Spark-Reignite-Passion-Become-Person/dp/0241970075
New TV Show – Million Euro StartUp
I'm currently working on a new series for 2016 which sees budding entrepreneurs compete for the best possible startup package to ensure their fledgling business idea survives and thrives. I'll be posting up further information once we start production.
Irish Tatler Celebrates 125 Year Anniversary
Unbelievably we are celebrating 125 years of Irish Tatler – a magazine that has survived two world wars and some of the most turbulent decades in Irish history. Despite the arrival of radio, television and the digital era it remains Ireland's oldest and highest selling women's magazine. We produced a special edition marking the pivotal moments in Irish Tatler's publishing history from its first incarnation as Lady of the House aimed at the wealthy aristocracy through to the transformative years in the early 20th century with the emancipation of Irish women. It stood alongside a generation of warriors who hauled the country into an era of equal pay and equal rights from 1970 onwards. And since the turn of the century Irish Tatler has been at the vanguard of shaping and pushing a reform agenda in business and public life and through its annual Women of the Year Awards has creating hundreds of inspirational role models.
Stay in touch with Irish Tatler at
http:// www.irishtatler.com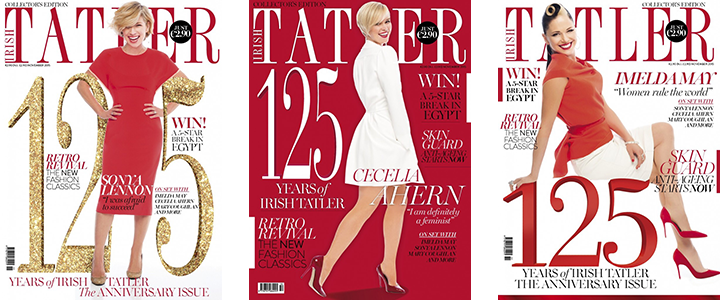 Find out more about all of Harmonia's magazines and news at
http://www.harmonia.ie