[vc_row][vc_column][vc_column_text]
In north county Dublin, just beyond Donabate there is one of Dublin's best kept secret hideaways. At least I always thought that growing up in Dublin. But by now maybe many more have discovered this little gem. It has few claims to fame other than having been a magical haven for us Dubs in the summertime. I am referring of course to Portrane. And in fact it has had a few noteworthy claims for the trivia buffs.
The very first episode of Father Ted, Fun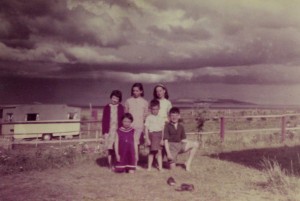 land, was shot in Portrane. U2 had a caravan there during the late 70s and were inspired to write lyrics and music for their 1981 album, October. George Harrison of The Beatles holidayed there with his family and I believe that some of the scenes from The Spy Who Came In From the Cold, with Liz Taylor and Richard Burton, were filmed there. And one more maybe…James Nesbitt shot some of the BBC series Murphy's Law in the illustrious surroundings of Portrane. But its biggest claim to fame in my life is in transforming us city kids into beach bums for a few weeks every year. Maybe not quite California but it was our seaside paradise nonetheless.
It's hard to believe now but there was a time in my life when holidays in Portrane was the highlight of my summer. Now an easy commute to Dublin in those days we caught a train to Donabate (the far side of the world) and a bus to Portrane. The journey seemed endless to us. We had family there and lots of reasons to visit. My Uncle Parkie Doyle and a host of cousins lived there and it later became a favourite destination for my "second family" (more anon!).
It was so exotic and different to normal life… we stayed in a caravan for one thing. It was strange and exciting and although it must have been quite cramped (there were seven of us) I have no recollectio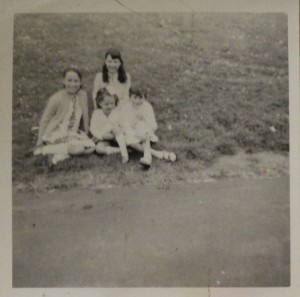 n of that. What I do remember is the anticipation of finally arriving and racing with my brothers and sisters down to the beach and into the sea. Now I will barely put a toe in the bracingly cold water of the Irish Sea… but the exuberance of youth obviously neutralised the chill – or perhaps dimmed the memory. We would swim and splash and jump over waves all day long and return to the tiny caravan covered in sand with skin red and shiny from the salty water.
Portrane was this wonderful place for exploring. We played endlessly in the sand dunes, climbed the cliffs and got to know every laneway in The Burrow. As the sun was waning at the end of a day of swimming, climbing and exploring, my father would take us along the shoreline in the evening to dig in the damp mud for cockles and periwinkles. Sometimes he would steam them in a big pot with a heavy lid, the salty fishy tang invading the small interior of the caravan. Often though he would eat them raw, picking them out with a pin. I would squeal and shriek when he offered them wriggling at the end of the pin and only when taunted once by my brothers did I bravely chew on a fresh periwinkle one evening (competitive even then!).
Of all of the enchantment that Portrane had to offer there was nothing more exhilarating that the swing boats proudly lined up next to the beach. For the uninitiated these were brightly painted boat-shaped carriages where the riders, two to a boat, did all the hard work in using two ropes to cause the boats to swing up and down. Very low tech and tame by today's standards but they were the roller coasters of my childhood and I thought they were deliciously dangerous. At night time they would be lit up transforming the mundane beachfront into a virtual Las Vegas.
I squabbled with my sisters and brothers over who would get to face the sea (the most mesmerising of views) and who would face the boring Green. The Casey's are all competitive and we spent our evenings trying to outdo each other by pulling the rope as hard as we could – the zenith of our exertions being the moment when we could finally see over the bar into the distant horizon. I can still remember the heart pumping moment when I soared as high as the swing boat would go, feeling the wind rushing through my hair, whipping against my cheeks as I swooped downwards before flying high again almost slipping out of the seat as I gripped the rough rope with both hands . By the end of the summer there would be blisters on my hands from wrenching the rope knot down as hard as it would go to catapult my brother or sister skyward.
I also had my first date with a boy on those swing boats. At the tender age of 13 I found myself sitting in the gondola with an Adonis from Donabate. Of course there was no way I was showing off my tomboy talents for pushing my showboat partner to screaming point as I sent them skyward. I was busy pretending I could hardly hold on to that rough old rope while simultaneously flicking my hair and gazing adoringly into his blue eyes. That was until I caught sight of my father's stern gaze glaring at me every time I rose above the eyeline of Donabate boy. It was a very short lived but memorable encounter!
Portrane was always a constant in my summers. I grew up in the Phoenix Park and as well as m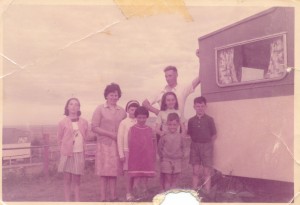 y own family connections it was also a favourite haunt of my "other family". This might take a bit of explaining but at the heart of Dublin Zoo (next door to where I grew up) in those years there were two amazing women, Irene Craigie (known to us as Teasy) and Maureen Kenneally. They presided over a gaggle of kids in Pets Corner. I suppose you could call us young volunteers but the horde of misfits in Pets Corner were so much more than that. The zoo was my life during my childhood and I spent every moment I could there, mostly under the care of these two extraordinary women. There were children of all ages and backgrounds who congregated in Pets Corner every weekend and during those long summer months. There was always a rota of work that had to be done, feeding the rabbits, mucking out the guinea pigs, milking the goats, clearing out the wishing well. The reward was strong friendships and great fun. And every summer they would rent an extraordinary looking tin chalet in The Burrow in Portrane. Of course I knew every inch of Portrane and loved being back there as a teenager… and the sand dunes were perfect for summer romance!
My memories of Portrane are of encounters with the friendliest of people, the novelty of spending time with our cousins, The Doyles, and the great natural playground of the sea and the sand. It was a time of innocence and simple pleasures but the reminiscences are richer because of that. Portrane was a wonderment to us city kids, who for a short spell got to swap the pavements and houses for an exotic and magical playground created almost entirely by Mother Nature…except for those swing boats of course.
-Norah Casey
[/vc_column_text][/vc_column][/vc_row]