( Click here for the published article Dubai )
There is a lot to love about Dubai…and a lot to fear. I had never been prior to this trip and frankly it wasn't on the bucket list. I had survived a decade of well-meaning friends bombarding me with tales of the awesome shopping, sumptuous hotels, the hedonistic lifestyle and what I can only categorise as the crazy stuff – ice rinks in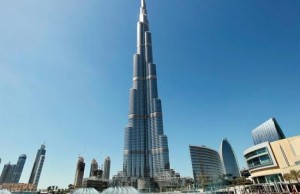 shopping malls, camel races, ginormous man-made islands and sky high buildings. I felt I had been there many times over. The gIoatagrams and bragging sessions from Dubai worshipers prepared me well. While I knew with certainty I would find pleasure in much of what Dubai had to offer I also knew that I would have to confront one of the things I fear the most…heights. Yet here I was eagerly planning a trip to a city that is home to the tallest building in the world. And that's because as well as tall buildings Dubai has two things I love the most. The die-hard shopper in me over the years had begun to nudge Dubai up the list of must-see places. Also there was one thing guaranteed to draw me in – the sun! Given the choice I choose heat every time. I keep promising myself that one of these years I will say yes to the constant nagging for a skiing trip but long Irish winters take their toll and the guarantee of sun filled days and cloudless skies is way too appealing . So in the interests of finally seeing Dubai, and experiencing all that shopping and sunshine, I was willing to confront the Vertigo (or at the very least ignore it).
Also the big advantage of Dubai is that you can fly direct to the Emirates from Dublin and I've done enough of the Paris/London/Schiphol stop overs to know how blissful it is to put your bags on at Dublin and settle yourself for a nonstop flight. Myself and my son Dara took 10 days and spent the first few in Abu Dhabi (See Irish Tatler ?? issue). We flew with Etihad Airways and took a car transfer from Abu Dhabi to Dubai (it was a really easy journey of about 45 minutes at a cost of E40). We loved Abu Dhabi – the perfect place to unwind and a much gentler pace than Dubai and we were fully acclimatised to the heat and the culture before arriving. So fully rested and ready for action we motored into sky high Dubai.
Nothing could have prepared us for the spectacle. Where Abu Dhabi is sedate, cultured and refined Dubai is…well frankly, a bit of a show-off. As we drove through the city we squinted and shouted as chrome and glass flashed in the hot June sun while outdoing each other trying to spot the weirdest gravity defying shapes, some leaning precariously to one side, others swirled and swivelled and stretched to unimaginable heights. You'd swear we'd never been out of Ireland and worse we were at some points nudging the driver to have a look – and he lived there! Dubai is futuristic and flashy but it also has something that I have only experienced in a few cities. It has a palpable energy…the same frisson is in the DNA of cities like London, New York, Hong Kong and more noticeable in Shanghai than almost anywhere else I have been. And here it was, unexpectedly, in Dubai – fast-moving, fearless, exciting and fun. We couldn't wait to get to know it better.
We were staying in the Jumeirah Zabeel Saray which is located on one of the world's largest artificial islands – the Palm Jumeirah. This was my first stay on a manmade archipelago. Shaped like a palm tree with trunk and fronds the total area is the size of 800 football pitches. An artificial reef (and an attraction for divers) was created by sinking two sold the Queen Elizabeth 2 to be used as a floating hotel at The Palm Jumeirah – although it hasn't make an appearance yet.
As the car drove up to the imposing façade of the Jumeirah Zabeel Saray- think magnificent, gilded palace from the Ottoman Empire – we tried hard to appear nonchalant. My boy is still only 14 but he has stayed in some of the world's top class hotels. Richard and I have been travel writing for the past two decades and there aren't many places he has not visited. I am telling you this because of the gob smacking splendour of the hotel. The interior is opulent with no expense spared – gold leaf pillars, enormous crystal chandeliers, gilded mirrors, marble tiles, silk brocades adorn the cavernous public spaces redolent of the Ottoman empire.
Part of the appeal to the teenager was the star quality of some of the previous guests. Tom Cruise filmed part of Mission: Impossible Ghost Protocol (released December 2012) in Dubai. Remember the scene when Cruise – aka superspy Ethan Hunt, complete with goggles and gloves – hangs out of the world's tallest building – the Burj Khalifa (it has 164 floors – I could hardly watch!). He also filmed and stayed in the Zabeel Saray declaring that it had an 'elegance and beauty on camera'. So while I had no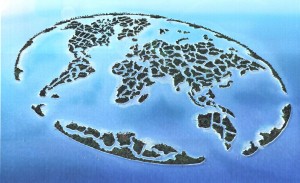 interest in following in his footsteps in visiting the Burj Khalifa I had a definite interest in experiencing a hotel that had caught the attention of a man who's filming tend to gross over €100 million.
The hotel also has some other celebrity fans – actress Uma Thurman has stayed and it hosted a segment of the The X Factor when judge Nicole Scherzinger and her guest judge Ne-Yo stayed at the resort (part of the judges houses element). TV presenters Dermot O'Leary and Caroline Flack also stayed and they filmed various scenes for the show. Dara was far more impressed with the news that comedian Al Murray also stayed – although the hotel is the furthest you can get from a British pub.
I was assured that it wasn't big by Dubai standards but it felt pretty imposing to me. Of the 400 or so rooms some 38 of them are Royal Residences– majestic villas – some surrounded by a private lagoon – one was to be our home for the five days. These stunning villas are beautifully appointed – fit for a sultan – four bedrooms, two terraces, access to a private beach, personal butler service, plush bathrooms…they were beyond luxurious. At the end of the first day we felt we might never leave. Dara was in heaven – PS3, Xbox, Nintendo – everything his heart desired (and unfortunately none of them involved shopping with his mother!). A favourite pastime for both of us was diving from the sitting room into the glorious waters of the lagoon at regular intervals as the temperature soared. We did manage to force ourselves to leave, mainly to eat in one of the amazing restaurants. The ones I particularly liked were Al Nafoorah where we enoyed beautiful Lebanese dishes – a real first for the teenager and we both loved it. Mornings were regal in the gilded column setting of Imperium with stunning sea views.
I had dinner with a friend one evening at Vôi a fusion of French and Vietnamese cuisine which was a totally different dining experience – if you only have one meal here then have it at Vôi. Afterwards we enjoyed cocktails in the uber chic Voda Bar.
I also squeezed in quite a bit of shopping – even better when you're not dragging a teenager around with you. I also got to visit one of the hotel's best assets – theTalise Ottoman Spa, almost certainly one of the largest and most opulent in the Emirates. I opted for the Royal Ottoman treatment and spent a blissful hour in the splendid Turkish Hamman. As well as feasting on amazing food each night in the hotel ( Voi was my absolute favourite), one of the highlights was eating in Al Muntaha, the restaurant at the top of the iconic 7 star Burj Al Arab. The hotel is not open to the public and even with a dinner reservation access is only granted 30 minutes before your appointed dining time. This was a big splash out for the two of us and one off experience. Was it worth it? Yes – without a doubt. The view was incredible – inside and out – it had a big wow factor. The food was great but really played second fiddle to the vista of Dubai lit up at night.
There's a lot to love about Dubai – it was an exhilarating few days and I wish we had stayed longer and planned more excursions. Ladies…be warned, the shopping malls here are gigantic – comfortable shoes and no time constraints required.
The making of Dubai
Dubai lies directly within the Arabian Desert and is one of the seven emirates that make up the United Arab Emirates – it's the largest by population and on the south east coast of the Arabic Gulf. Its location ensured that since the 20th century if grew as an important trading port with an economy built on the oil industry.
The hub of the Arabian Gulf region Dubai has being transformed over the past two decades into a cosmopolitan city of 2 million people. In 1990 is had only a single skyscraper and was on the edge of a desert now there are over 400 including the tallest building in the world, Burj Kahalifa, and the planet's most luxurious hotel – the 7 star Burj Al Arab. Tourism and trade has replaced oil in economic importance so this is a city out to impress and wow visitors. It's home to hordes of expats – in fact only 15% of the population are locals. Good education and health care, no tax on income, low crime, modern infrastructure, constant sunshine …yes – I think you can see the appeal. Dubai unsurprisingly has been rated one of the best places to live in the Middle East. It has also being grabbing the world's attention through ambitious construction projects – sky scrapers, man-made islands, the largest shopping malls in the world and gilded luxurious hotels boasting the only 7 star hotel in the world the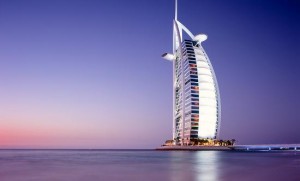 Burj Al Arab. Although the world-wide property market crash and economic downturn has had an impact on Dubai it was already showing signs of recovery and growth when we visited.
Flying with Etihad
Dara and I flew to Abu Dhabi with Etihad Airways – you will enjoy the strong Irish contingent among the cabin crew – there are 10 flights every week and since last summer Etihad increased its capacity on the route by 34% when it deployed Boeing 777s (the biggest aircraft in the fleet) on several of the flights with 28 fully flatbed seats in Pearl Business Class and 384 seats in Coral Economy Class. In recent year's I have flown Coral Economy – which is spacious and comfortable and on this occasion the award winning Pearl Business Class (see Irish Tatler ???). From July Etihad will be offering six weekly flights from Dublin to Perth, Western Australia with connections at its Abu Dhabi hub.
In recent months Etihad launched a new Flying Nanny service on board long haul flights including the Dublin – Abu Dhabi route to help families and unaccompanied minors.
Further details : www.etihad.com