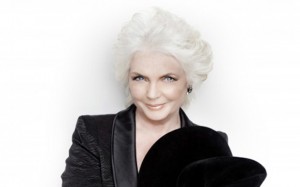 "I like your girl, Wheeler. I get the feeling she's female. You know what the difference between female and feminine is? Huh? Well, here's a hint: a feminine woman never laughs out loud and always shaves her armpits…I've only met about a half dozen females in my life, and I think you've got one there."
You might recognise this quotation from Richard Yates' Revolutionary Road. If you don't… Suffice to say it's one man's take on another man's wife, and intended as high praise indeed. And – while ignorant to her shaving habits! – this 'all female' description comes to mind when considering my next heroine. Fionnula Flanagan.
Image-search her name and this is what you'll find: a striking, stylish woman with a witty spark in her eyes; a woman on a red carpet, fingers aloft in a peace sign, collar up in cool elegance, pearl-coloured hair teased to the right side of rock'n'roll. You'll find this Irishwoman in Hollywood, walking with kings, or in the wilds of Connemara, a firm grip on the common touch. You'll find a seventy-three-year-old superstar whose inner fire has illuminated the world.
Born Fionnghuala Manon Flanagan in 1941, she is all female; a renowned actress who has portrayed all the females you could conceive. Highlights of her fifty-year career include roles in such films as The Others, Transamerica, Divine Secrets of the Ya-Ya Sisterhood, Waking Ned Devine and The Guard. Name a major TV series, meanwhile, and there's a good chance she's done it: from Cagney & Lacey, Murder, She Wrote and Columbo to, in more recent years, Lost, Nip/Tuck and Brotherhood. She's won an Emmy Award, has been nominated for a Tony, and this classically trained thespian has even travelled to a galaxy far, far away: featuring in not one but three series of Star Trek!
Her versatility is what marks her out, as does, I suspect, her tendency to shatter the status quo. It is in this latter trait that necessity has been the mother of invention, as she explains: 'I'm a character actress. Always have been. And Hollywood has never known what to do with character actors. Look at the career of Sean Penn, a friend of mine. When he was younger they tried to push him into being a leading man. He is a fine, wonderful character actor, not someone who fits into a 'leading man' mould. So I had that strong sense of myself. I knew I was never going to be a slip of a thing playing the juvenile lead. I also knew I needed to be strong, because when I first went to Hollywood there was not so much room for foreign actresses, and I will always be regarded as a foreign actress.'
To understand her grit we need to rewind. Before Beverly Hills, and before becoming a 'foreign actress', Fionnula enjoyed a happy upbringing in Dublin. The eldest of five, her parents Terry and Rosanna were avid readers with a passion for language. And while English was spoken at home, the couple made the unusual decision to send their children to all-Irish-speaking schools. "My mother had some Irish because she had worked in the civil service," Fionnula recalls, "while all my father could say was Tá, the Irish word for yes, which used to amuse us all very much." What prompted their choice? "They both believed passionately in the idea that you should have your native language. They believed in the principle of Tír gan teanga, tír gan anam – a nation without a language is a nation without a soul."
Bilingual children have been proven to perform better academically, to display a greater dexterity for language and learning throughout their lives – a clue, perhaps, to Fionnula's mastery of the spoken word. Statistics aside, she tells me her bilingualism "has given me a kind of solidity about where I come from and where I belong that others don't have. I am so grateful for that because it has enriched me. Lots of Israelis I speak to, who never learned Hebrew…well, there's a difference, you know, if you own your own language, whether you use it on a daily basis or not."
While the young Fionnula could speak two languages, I'm surprised to learn she found speaking up in either of them a challenge. "I was terribly shy," she says. "I remember my father bought me a watch for my tenth birthday and I was so appallingly shy that I didn't wear it. I was afraid someone would ask me the time, and I would have to speak!" A shy actress? Before I interject with flying pigs she continues: "I think all actors are shy deep down. I really do. You can be a private person but it doesn't mean you're not confident about what you do. I think there is a reserve within most actors, because it is our job to observe; it is what we spend a lot of time doing, trying to learn how to recreate what we see."
Fionnula's quieter years were put to good use, it seems, as once she found her voice there was no holding back. She played in the acting big league from the outset; training first at Dublin's Abbey Theatre before honing her craft at London's Old Vic. Next came a move to the US, where she has now lived for more than four decades. California – and all the glitzy adjectives that go with – is her address, yet good old Dublin will always be home.
I think I know the feeling – having lived in London for twenty years. My late husband would laugh when I talked about 'going home for the weekend'. 'But London is your home!' he'd say. I might agree with him – momentarily – but once through the doors of Dublin Airport the damp, comforting smell of the air alone made a liar of me. Fionnula smiles in recognition, saying, "I've lived in California for forty years and I still say I'm 'going home for two weeks!' She talks about a magnetism that will always draw her back. "I mean, Ireland is the well," she says, "I remember coming home at Christmastime some years ago and there was a wonderful sign at the airport that simply said, 'Welcome Home For Christmas'. I thought that was so moving and it certainly touched me very much."
Fionnula does come home often – to support the film industry, accept an award, or to carry out her duties on the board of the Picture Palace Galway. Back in her adopted home, meanwhile, parties thrown for California's Irish immigrant community at 'Fionnula's house' are famous. There she hosts with the man she married in 1972, Irishman Dr. Garrett O'Connor, internationally renowned psychiatrist and former CEO of the Betty Ford Institute. Fionnula's roots are never more evident, however, than when you steer her towards the subject of James Joyce.
"I went to school in Eccles Street," she tells me, "and as far as I was concerned that was where (Joyce's) The Blooms had lived. And at home, my father liked to pontificate about the many things he'd read…from George Bernard Shaw and James Joyce right down to the Beano comic. Mid-conversation, he'd jump in with things like 'and George said…' or 'Shaw said…' So as I kid I thought that Joyce and Shaw were people my parents knew! I never questioned that they didn't!"
This early familiarity with the great Irish scribes was to lead to something extraordinary. Finding herself pigeonholed in 1980s Hollywood, Fionnula looked inwards for inspiration. "I was fed up with the limitation of episodic television," she has said. "And that was when I sat down and researched Joyce's Women. It was a journey. I told myself that I didn't care if it didn't work or I went broke. It was a hard row to hoe, since I was so unknown."
The result: a one-woman show adapted, produced and performed by Fionnula Flanagan. Women saw her play six females, each influenced by Joyce, a tour-de-force that went on to become a multi-award-winning film. The pay-off? "It got my phonecalls answered," she quips, "and it did garner me a lot of respect in Hollywood…but you can die of terminal respect, you know!"
Like so many working in the creative industries, Flanagan has spoken of the fear that each gig could be her last. With Women under her belt, however, she could begin to believe the calls would come, and she could afford to be more selective as to those she would accept. In 1996 a call came through with Irish director Jim Sheridan on the line. He and Terry George had written a script based on the 1981 Hunger Strikes in Northern Ireland, and they wanted her on board. Now, Fionnula has played many mothers (John Cusack and Molly Ringwald are just two actors who have been 'mothered' by her on screen), but this movie was to produce her most memorable matriarch yet.
Some Mother's Son starred Fionnula Flanagan and Helen Mirren as Annie Higgins and Kathleen Quigley, mothers of two hunger strikers. "This is one of my favourite pieces of work," Fionnula tells me, "because it is a picture about something that mattered. It is about a watershed in our history. We are still today feeling the fallout, in Northern Ireland, from those dreadful days. I think what Jim and Terry did in writing it was to address something that nobody else had. Several scripts on the The Hunger Strikes had been sent to me, but they were all told from inside the prison…the real story of how it tore the community apart was set among the families. The brilliance, you see, was in the focussing on the mothers."
Not only is Some Mother's Son a powerful piece of film, it's also key to understanding what Fionnula Flanagan did next. First of all, she stopped dyeing her hair. "I wanted to find out who I was underneath all that red dye," she explains. "I had it cut short and went around for a few months with pinky-orange hair. The white colour I have now grew out. People said to me: 'it makes you look old, you'll never work'. Well, I haven't stopped working!"
Something deeper changed, too, as this proud Irishwoman became increasingly politicised. She and Garrett opened their Los Angeles home to Gerry Adams, the leader of the republican Sinn Féin party and a controversial figure to say the least. "We threw open our doors to Sinn Féin when they initiated The Peace Process," she states. "That was why Gerry Adams came to America, to spread the word and get support for it."
If you are not from Ireland, this may not sound like a big deal. If you are Irish, however, you'll know that an actress having the leader of Sinn Féin stay over…well, it's certainly a divisive move. So too was her vocal backing of Martin McGuinness, another key Sinn Féin figure, in the 2011 Irish Presidential campaign. But if one thing is true of Fionnula Flanagan, she is not faint of heart, preferring instead to push the limits of possibility for what she believes in. And so she supported what was to be an unsuccessful campaign, and did so without regret.
Fionnula has fire in her belly, and to fuel it she devours politics and the arts, soaking up everything – and everyone – around her. Her stirring characterisations continue, she has become a scriptwriter on the side and is now a doting great-grandmother to boot. She is an energetic, engaged woman with a few axes yet to grind: chief among them what she views as the patriarchy of the Irish creative arts. While pleased to see names like Joyce, Beckett or Fassbender up in lights, she queries why names like Edna O'Brien remain relatively obscured. "It will take time," she has said of the shift, "and it is changing slowly. Part of it, I believe, is training women to take ownership of their talent."
At seventy-three years young, Fionnula Flanagan has a remarkable zest for life. She has many things yet to learn, stories to tell, and words to breathe new meaning into. One word this fearless female will never understand, however?
That's easy. 'Retirement'.