Why you should go: Kurland is a wonderful romantic hideaway for honeymooners as well as a great family holiday
USP: The Polo Farm and magnificant pavillian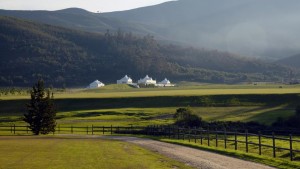 The unique selling point of Kurland is its wonderful Polo paddocks and magnificent pavilion. The estate is 700 hectares with 150 horses owned by Kurland and some 450 in total on the farm. The place has become a magnet for Polo enthusiasts and the season lasts from early December to April. The highlight of the calendar is the International Polo match between England and South Africa (held on December 29 in 2004 – England won!). Over 4000 people turned up many of them local people to watch the big game. A couple of day's earlier Kurland had hosted a classical concert by Cape Town Philharmonic Orchestra which attracted a huge crowd many enjoying picnics in the sun. While we were there we managed to catch a match between Kurland and the neighbouring Polo farm with staunch supporters for both teams cheering on from the Pavilion – hard to imagine we were in South Africa at all.
Brad Pitt recently stayed at Kurland when we visited – the exclusive Polo Farm and Hotel – and once you've been a pampered guest you will understand why. Kurland is about 20 kilometres beyond Port Elizabeth and although situated towards the end of the Garden Route is an exceptional choice for few days – or even longer. Once you pass through the private security gates the sweeping drive leads to a pristine collection of white guest houses dotted around well-manicured lawns and gardens. The main house, in the old Cape Dutch tradition dominates but all of the guest villas are brilliantly white washed and stand gleaming in the sun. The general manager Thomas Webber greets us and helps carry our bags to our wonderful home from home. No check-in or credit card swipes to spoil the allure that you are a guest in a friend's wonderful stately home. Our quarters are luxuriously appointed.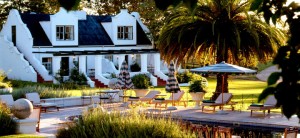 We stayed in Rose Garden 1, one of the semi-detached guest houses at Kurland – adorned inside and out as you would expect by roses. The polo paddocks and dramatic Outeniqua Mountains
provide a beautiful vista from the veranda. The guest house was a substantial abode for an overnight stay – and by no means the largest or palatial of the accommodation at Kurland. The ground level had a wonderful bedroom come sitting room opening out onto the veranda – the bed was a large oak four poster with distressed side dressers – an open-plan fire already set for lighting with a huge basket of freshly cut wood nearby. Comfortable furnishings, chandeliers and a large oak bookcase groaning with books to suit all tastes were in keeping with the country house atmosphere of yesteryear. The bathroom however was the piece de resistance – a magnificent open space with a large free standing bath as the centre piece – a shower (sufficient for two comfortably!) occupied one corner while a bath sofa stood pride of place against the wall. Vases of fresh roses were scattered throughout (I counted 6 in total) – eliciting wonderful aromas. Upstairs the attic had been converted into a large open-plan space designed with children in mind – complete with twin beds, play area and bathroom (amazing attention to detail with complimentary confectionery for our six year old). Us adults had to make do with a well-stocked mini bar and (as Kurland also has an honesty bar system) a large bottle of gin, a bucket of ice and chilled tonic water meant we were well equipped for the evening sun-downers. There are only 12 rooms at Kuland so privacy is guaranteed – seven of which have plunge pools and patios.
This is a very child-friendly establishment catering for kids of all ages. It has two swimming pool in a designated children's area with an outside play area and an indoor playroom (well equipped with toys and the essential Playstation 2). Children meals are provided in the conservatory and our night there the amiable and laid back chef made an enormous pizza for the smaller guests. But don't be put off if you are planning a childfree holiday – this place is an oasis of calm and serenity with a special adults-only swimming pool, spa and gym and plenty of calm childfree hideaways.
In the main house and central focal point, the feeling of relaxed grandeur pervades. The décor is eclectic – lots of comfy overstuffed sofas, faded carpets, open fireplaces, bookshelves groaning with volumes adding to the ambience. The nooks and crannies of the house feature old oak dressers mingling comfortably with contemporary and traditional art – the owner is a keen collector and a local art gallery provides art to show and sell throughout the lodge. The Victoriana theme stretches to the dining room where crockery is deliberately mismatched (the theme is much more old money than nouveau riche).
The amiable GM Thomas Webber is Swiss and grew up in Klosters – favourite skiing haunt of the royal family (particularly Prince Charles, Diana and the boys). It was strongly rumoured that Prince Charles frequented Kurland and although Thomas met them many times in his hometown the Prince of Wales has yet to visit Kurland. A former food & beverage manager at the Table Bay, Thomas also worked at the Hilton in Nairobi, then Hong Kong before moving to the Kapinski group as second in command to the GM in Goa India. He came to Kurland with his family five years ago and while sceptical of how much managing a 12 roomed hotel might require he was quickly smitten with the magic of the place and the high quality of personalised service to guests. 

"Its so different to traditional hotels, very relaxed and a wonderful setting of course. People come back again and again – sometimes it's the children who encourage their parents to bring them back. Kurland is perfect for older children, usually the parents don't see them from early morning, there is so much to explore on the farm and they get to know the ponies and the foals and have a great time here", he told me.
The executive chef at Kurland, Ian Bergh, trained at the famous Constantia Uitsig and La Colombe restaurants. He's a charming and easy-going chef – perfect for the Kurland clientele. During daytime Ian potters around the kitchen with a ready wit and laughs when I ask for the menu. "What do you want", he says, "and I'll cook it for you". Bliss. For dinner Ian prepares a different menu every night.
---
Key Features
Luxurious accommodation & personal service
Gym, spa and beauty salon
Two swimming pools
Very child friendly
Great relaxed dining
---
Kurland, PO Box 209, The Craggs 6602, South Africa. Telephone: +(27)(44) 5348082, email: info@kurland.co.za, Web: www.kurland.co.za.
---
Irish Tatler: 2008 Norah Casey & Richard Hannaford