For the past five years we as a family have always spent a couple of weeks during the summer in Italy with friends. The balmy Tuscan weather, good company,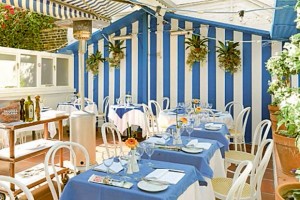 and great food and wine combine to create many treasured memories. However this year for various reasons we decided to stay in Ireland for the summer, (yes, well, we'll say no more about that judgement call) just taking an occasional foray to London.  And it was on one of these trips that we chanced upon La Famiglia.   
 When I say chanced upon, what I really mean is decided to visit. For the past two years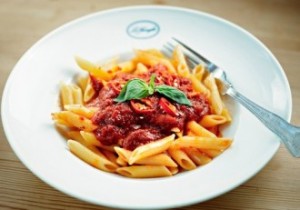 a good friend and foodie has been raving about this restaurant, tucked away as it is, off the Kings Road in Chelsea. In fact she's not the only one to rate this restaurant. For the past thirty years the place has been a regular haunt for such stars as the Rolling Stones, Julia Roberts and Arnold Scharwzenegger. While we were there the actor Simon Callow (the one who died in Four Weddings and a Funeral) was there with friends. In fact the owner, Alvaro Maccioni is himself something of a star. A TV chef with his own cookery school in Florence, he's also credited with helping to create the passion for Italian trattoria's in London back in the 1960's.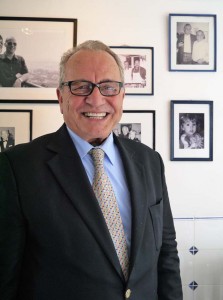 So it was with great anticipation that we entered the pleasing blue and white tiled trattoria one sunny Saturday afternoon. Inside the airy dinning room the tables were closely spaced, but reassuringly laid. As a former silver service waiter, it pleases my soul to see a table covered with stiff white linen, and laid with gleaming cutlery and pristine glassware. Along the pale walls, the black and white photographs of Alvaro and his family help create an atmosphere that is both correct yet relaxed. At the back of the building is a huge covered garden where even more tables are distributed with a little less formality.
One glance at the menu confirms this is traditional Tuscan fare. In deference to this I chose the Carabaccia (garlic toast with vegetable, poached egg and sheep cheese) as a starter. This proved a winning choice as the egg was poached to perfection and its yoke still runny enough to drizzle down onto the creamy cheese and the toasted bed of rocket and asparagus. My only criticism, if criticism it is, is that the starter was almost a main course there was so much to enjoy. We also shared Fiori di Zucca – deep-fried courgette flowers. The difficulty with this dish is that if the batter is to thick it can over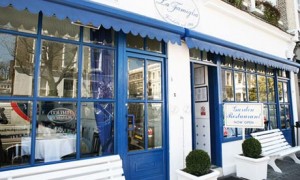 power the delicate petals underneath, and if its not served as soon as its cooked it can lose its crispness. In this case the dish was clearly appreciated as nothing remained when I turned to try a little.
 Although the wine list is not voluminous it is more than adequate and contains some fine Ornellaias and of course Chiantis.  We chose a Prosseco from the award winning Bisol vineyard – a light white sparkling wine that at its best rivals anything the producers of Champagne can offer. The bubbles are delicate and refreshing, while the taste offers a creamy melon and vanilla mix. This proved a better choice for my companion as it turned out to be the perfect accompaniment for her next course the Rissotto alla Fragole – Strawberry Risotto. This is one of Alvaro's own specialities and is an intriguing and successful blend of the sweet and savoury. I, on the other hand, had opted for the Spiedino d'Uccelli Salvia (Wild boar sausages skewered with chicken and bread). I had hesitated over the Petto d'Anatra al Vin Santo (Breast of Duck in Holy wine served with rucola salad) but decided the organic Tuscan specialty had to be tried. But when the home-made sausages arrived, I knew I had made a mistake. Although served on a bed of olive oil soaked bread and quite delicious, this is a dish more for a winter's day than a warm summer's afterno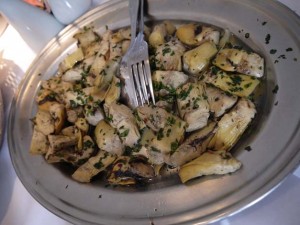 on. Heavy and filling I realised that I was in danger of losing my chance to sample one of Alvaro's puddings. Cutting my loses, I left two sausages and began anticipating the pleasure of the dessert trolley.
 However in this instance few of the dishes on offer inspired me. Perhaps the sausages had removed more of my appetite than I anticipated, but neither the fresh fruit salad, nor the tiramisu enticed. I ended up with Torta do Ricotta – a rustic type of cheesecake. This turned out to be a good choice as it was both light and creamy with a wonderful tanginess. She asked for a mint tea having earlier been told that the mint growing on the window ledge was used to make this infusion. Sadly this turned out not to be the case and a packet from a well-known firm was left in the cup to be dunked to her own requirements. The bill when it came added up to more than £65 for the two of us – nearly Î100- so its not cheap. However the food transported us, fleetingly, to the Tuscan slopes and the ambience delightful. We will return.
---
La Famiglia:  8 Langton Street, London SW10
---
FOOD&WINE: Richard Hannaford