Why you should go: Top of the list for romantic getaway especially if you can afford one of the refurbished villas with private swimming pool and garden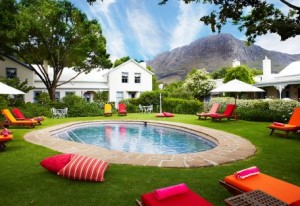 USP: Fantastic food and amazing décor
Le Quartier has an enviable location – right on the main thoroughfare in Franschhoek. Once inside, however, it's a haven of peace and tranquillity. As you wander through the beautifully maintained gardens its hard to imagine the bustling street outside. Franchhoek 's acclaimed dining establishment, Le Quartier Francais, is often described as a restaurant with rooms. Fans of Le Quartier will be delighted to learn that this much-loved haunt has been thoroughly refurbished in the past year by the irrepressible Susan Huxter.
No stranger to awards (over 20 national and international accolades in the last three years) Le Quartier Francais scooped the Best Small Hotel award for 2005 at the Tatler Abercrombie & Kent Travel Guide Awards at the Ritz in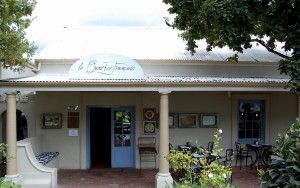 London last December – so the new look has certainly paid off. Susan Huxter has owned Le Quartier for over 15 years and she presides over an all women management team. Chef Margot Janse, herself a consistent award winner, was voted top chef in South Africa in 2003.
The refurbishment of Le Quartier also extended to the cooking with an emphasis on relaxed daytime eating and night time fine dining. A new Tasting Room offers two six course menus and an eight course gourmand menu (excluding the amuse bouche and the pre-dessert) paired with wines by the glass (not for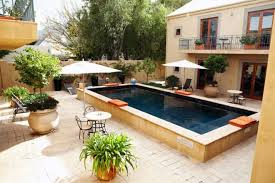 the faint-hearted). Two former London-based sous chefs were brought on board to aid the transformation – Chris Erasmus from two Michelin starred Pied a Terre and Maritz Jacobs from the Street Brasserie.
We enjoyed a relaxed Sunday lunch at the newly opened café-style ICI and opted for a street-side table with great people-watching potential. The simple menu was a welcome change from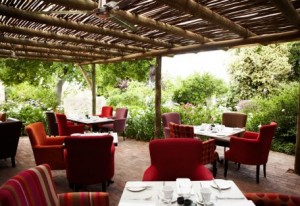 the somewhat fussier Franschhoek dining establishments and the service was exemplary (we were spoiled by the friendly Eleanor Kerwan about to embark on her first trip to Ireland to trace her Galway family roots!). This was Sunday lunch at its best – large family groups talking animatedly – and more loudly as the wine flowed. The food was great. It was a hot day in the Winelands – perfect for a simple Caesar salad – fresh crisp lettuce – no fuss. Richard enjoyed a Gorgonzola dressed roasted red onion, pear and walnut salad. I misbehaved atrociously and had the 'full fat' pork loin with crispy crackling (divine even if the post-repast guilt wasn't) while Richard had the wood baked mussels with white wine and gremolata – much lighter than meuniere. Unfortunately the guilt hadn't yet set in when I spied the dessert menu – a new addition – sticky bun ice cream. If you've never been to Le Quartier (chances are you will be stones lighte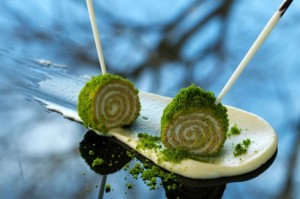 r) you won't understand the addictiveness of their sticky buns. At 4am every morning hordes of women (Aunties) arrive to make this confection – a mix of almond, syrup and croissant. People drive out from Cape Town at the weekends just to have these sticky buns and they regularly sell out at breakfast. How inventive to create an ice-cream with the same unique sticky sweet taste as the bun – I had to have it – and as luck would have it they found one last sticky bun to quell my cravings.
Our chosen wine was the local pink tinged 2004 Haute Cabriere and it went down amazingly well on a sun-drenched Sunday in Franschhoek.
Key Features
Restful romantic hideaway – right on the main street
Wonderful gardens and swimming pool
Spa and beauty salon
Private cinema
Formal and informal dining
---
Le Quartier Francais, 16 Huguenot Road, PO Box 237, Franchhoek 7690, Cape Winelands, South Africa. Telephone + (27)(21) 8762151; email: res@lgf.co.za; web: www.lequartier.co.za.
---
FOOD&WINE: Norah Casey & Richard Hannaford