Sámas is a wonderful respite from life's many excesses. Even a weekend break can work its magic so that you feel you have had the most wonderful regeneration of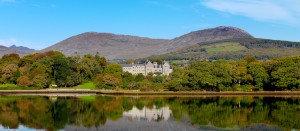 the body and soul. It's different from other spas. I know you have probably heard that many times before but on this occasion its true. This amazing contemporary retreat is an extension of the grand 19th century house that is home to The Park Hotel in Kenmare. Built in 1897 The Park is a glorious testimony to the days of hotel grandeur where residents take time for afternoon tea and dress for dinner in the dramatic Victorian dining room. The corridors are lined with amazing antiques while the draped windows offer tantalising glimpses of the most incredible scenery. The Park is nestled in the charming town of Kenmare and surrounded by forest with sweeping views to Kenmare Bay. Nature couldn't have been kinder. Brothers John and Francis Brennan took over the hotel in 1986 transforming The Park experience in an evolutionary manner so as to retain and increase their loyal customer base. In 2003 they set the standard for Ireland's luxury spas with the opening of Sámas. They created a space that was far removed from the Victorian splendour of The Park but still at one with its surroundings. Sámas is a perfect marriage of local materials from the soothing limestone walls to the ashwood day lounges with expansive use of glass creating light filled rooms and perfect views of the statuesque trees and glistening waters of the Bay. The Brennans also understood that Sámas had to be more than a place of beauty. The Espa-inspired treatment menu is refreshingly simple with a choice of five 'Essence of Sámas' treatments and six 'Sámas Rituals'. Sámas offers holistic treatments that aim to treat the body and mind. Offering a haven for stressed workaholics the exceptionally polite and well-trained therapists encourge relaxation breaks between treatments and its hard not to oblige when you are cosseted in one of the sumptuous day beds listening to soothing music from the ear phones attached.
Spa Tips
Its worth checking the website for special retreats and workshops. The Park hosted a Chiva-Som 10-day special retreat last May and regularly has visiting gurus such as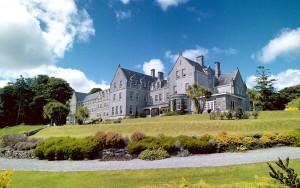 pilates expert Lynne Robinson and Katy Appleton. Make sure you leave plenty of time to enjoy some pre-treatment hydrotherapy in the thermal suite where you can relax in the laconium heat chamber and steam room with experience showers and an ice fountain to refresh. Even better Sámas cleverly provides separate thermal suite facilities for male and female so us girls can really chill out with a shared outdoor vitality pool. Choose your treatments in advance. I opted for an amazing massage which is perfect for working girls – the 'Definitive back, head and scalp ritual' which was one hour of blissful hands-on deep massage to relieve tense muscles. If like me you have sensitive skin that needs careful handling then opt for the Rose Facial (relaxing cleansing, toning, exfoliating) using the gloriously scented sandalwood and Indian rose oils. If you don't know what treatments to opt for then choose the Sámas Experience (€140). The Park offers a range of activities including a morning power walk (and a serenity walk), aqua aerobics, t'ai chi, yoga and relaxation sessions. A programme of activities will be placed in your room and its worth making the effort to try out a few.