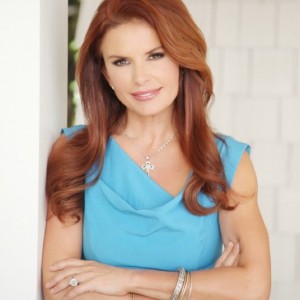 Taking on adversity – and winning – is the theme of many an inspirational life. And to me this holds true for Roma Downey, a woman who has risen from troubled roots to forge a career, and a life, that continues to exceed even her own expectations.
Roma was born against the turbulent backdrop of Derry's Bogside, but is now resident in California, where she sits atop a multimillion dollar TV and movie business. You may remember her as the beautiful face portraying Jackie Onassis in the 1991 miniseries A Woman Named Jackie, and you'll almost certainly recall her as the leading actress in Touched By An Angel, the Emmy-award-winning series starring Roma as real-life angel 'Monica'. What you will be less familiar with is the story of how this Belfast girl made an international mark, and how she is now making a triumph of her second chapter in life. I recently put a call to her Malibu home to find out.
We start by discussing what was a difficult upbringing. 'I grew up in a pretty troubled area,' she tells me. 'We were a city occupied and there were constant riots and explosions.' This was Derry of the 1960s, a place riven by sectarian battle and one she acknowledges as a 'very segregated community', characterised by 'very real fears and very real threats'. She grew up in a 'little row of houses on a hill', studying Irish dancing and piano as a child before taking on her first job as a teenager. 'I worked on a Saturday in a shoe shop in the city centre,' she tells me. An ordinary start, I think, until she sheds light on the quite extraordinary working conditions that applied. 'I remember working one Saturday afternoon, when we were all told we had ten minutes to get out of the shop. So there we were, wrapped up in our coats, freezing, in the car park, when the shop blew up and it was raining shoes everywhere. That's what I mean by very real fears and very real threats.'
I am curious if she remembers Bloody Sunday, that horrifying day in the Bogside, in January 1972, when the lives of fourteen unarmed civil rights protestors and bystanders were extinguished – and fourteen others were seriously injured – by soldiers of the British Army's Parachute Regiment. Roma would have been just eleven years old on that date, yet her response today is immediate. 'Oh yes, I remember it well,' she says. 'The horror of it, and the darkness that overcame our city and our community. We were a very small community, Norah, so I don't think anybody wasn't touched personally by any number of the atrocities that happened over the years.' I wonder if she was conscious, at that time, of the personal impact of this chaotic environment. 'Well, it was normal for us,' she reflects, 'and it really wasn't until I left for college that I appreciated that most people don't live with a level of constant tension.'
What surely felt less normal, sadly, was that Roma was maturing without a mother's guidance. Maureen Downey, a homemaker and amateur actress, suffered a fatal heart attack at the very young age of forty-eight, leaving her ten-year-old daughter bereft. In hindsight, Roma has surmised that 'The Troubles' outside her front door were all but eclipsed by the grief experienced on the other side of that door. 'It didn't impinge on me as much as it might have,' she has said, 'because throughout my teens I felt the loss of my mother so acutely.' A decade later her father, Paddy, was also to pass away, leaving Roma no choice but to set about her ambitions unsupported.
She travelled to England's Brighton College of Art, initially pursuing a career in painting before turning her attentions to that first love of her mum: acting. Her classical training was completed at Drama Studio London, where Roma was named 'Most Promising Student of the Year' on graduation, and was soon thereafter landing roles in respected productions. Next came relocation to the US, where, she tells me, her income was initially supplemented by something of a less prominent role: 'My first job in New York was a hat check girl in a fancy Upper West Side restaurant,' she smiles, 'but I was doing Shaw and Shakespeare off and on Broadway, and then I got my television break.'
The call came: Roma had been cast to play the iconic Jackie Onassis in a major miniseries, A Woman Named Jackie. This was undoubtedly the big time; if not quite time to count chickens, as she explains. 'It was a big break,' she says. 'I picked up my bags and moved to Los Angeles. And I remember my publicist calling and saying, "we've got the covers of TV Guide and of People magazine, and it's great". So those covers came out and of course who was on the cover but Jackie Onassis herself…so I became the actress who played her. It wasn't until Touched by an Angel that I was able to create something of my own.'
Touched By An Angel felt right to Roma for several reasons. Here was a chance to play Monica, the show's protagonist, not the 'wife' or 'girlfriend'; a trademark of the TV scripts landing so regularly on her lap. The show was also founded on a deeply spiritual theme, chiming harmoniously with the actress's devout Christian faith. Her instinct was to prove correct, of course, as not only did Roma love the series; so too did the world. Millions of enchanted viewers, a ten-year run and an Emmy Award were to follow. And, by a happy twist of fate, the Derry girl was to pick up a very important new relationship along the way.
On screen, legendary actress Della Reese played Touch by An Angel's Tess, the 'employer' of angel and 'case worker' Monica. Off-screen, Della and Roma were to develop an amazing bond. 'Della Reese is my mother, you know?' Roma tells me, and she really means it. The pair simply decided to 'adopt' one another, continuing to behave as mother and daughter to this day. They live close to one another, meet regularly, and Della is godmother to Roma's daughter, Reilly Marie. From where did this incredible connection spring, I ask. 'Della also had tragedy in life,' Roma responds. 'And her only daughter passed away while we were working together. I remember she took me in her arms at the time and said, "Baby, God is so amazing because I know he brought me into your life because I know you needed a mother. I just didn't realise that he brought you into my life because I was going to need a baby girl." Della's family to me, and it is one of the lasting gifts of working on Touched by an Angel. What a blessing she has been.'
It's a great example of how the sharing of personal adversity can create an unbreakable bond. But Della Reese's is not the only shoulder Roma Downey can lean on. The actress – and children's author, by the way – is married to Mark Burnett, a TV producer who shares her faith and her ambition; the product of this combination leading to Roma's most incredible achievement yet. She and Mark are executive producers of The Bible miniseries, an idea that started over a cup of tea and became the highest rating television miniseries of all time. Its 2011 History Channel debut was a staggering hit and now, this dramatic reenactment of the life of Jesus, featuring Roma as Mother Mary, has amassed an estimated 200 million viewers worldwide. Making it happen – and of course finding the funds to make it happen – was a passion project for the couple. I ask if the big budget dream ever felt beyond reach. Was The Bible a risk, I wonder, or did she and Mark know that it would just fly?
'I think it was a bit of both,' she replies. 'I don't think you can step out boldly without risk. And I think anybody that's sitting back expecting to have assurance and have everything lined up would never get anything done, would they? There's a certain amount of courage required. But I think we always knew that the stories are big, compelling and moving, so we knew that if we could emotionally connect with an audience and get that right, that there would be a viewing audience for it. I don't know that we could have dared to dream,' she reflects however, 'of what has occurred. As each week unfolded, and the numbers continued to be in the many millions, we were deeply encouraged and we knew that it had touched a core. The Bible trended each night on Twitter, which was extraordinary, and we had all kinds of huge stars watching – with Oprah on there live tweeting! The support was phenomenal and it has all added up to even more people being touched by the story. It's just been fantastic.'
Beyond impressive as The Bible is, so too, I think, is Roma's relationship with her husband. Mark is a former member of the British Army's Parachute Regiment – those same guys Roma and her pals would have thrown stones at as youngsters. Today, they not only love one another, they work together too. On the subject of partners entwined in the personal and the professional – never an easy task! – Roma confides: 'Yes, we have managed very well, I think! We often joke that other couples can't even do yard work together, but we have managed now for almost five years to be working side by side, together in the trenches. And we're still speaking to each other!'
Before I finish the interview, I want to know what's next for Roma, how she plans to make this second chapter of her lifeeven more emotionally satisfying. She has recently completed a Masters degree in Spiritual Psychology from the University of Santa Monica, and is now concentrating on the next chapter in her television production story. 'We have another series called A.D., which NBC has just purchased,' she tells me. 'It resets the bible story from around the time of the crucifixion – we would all think that that was the ending but we know it was just the beginning. So it will track the eleven remaining disciples, how their story progressed to become the beginnings of the early church. It will be a great, exciting drama, and we have also been booked by CBS Network to bring to the screen a four-hour miniseries called The Dovekeepers, which is based on an Alice Hoffmann best-selling novel of the same name. We hope to bring each of these projects to the screen in 2015.'
Roma has another project currently in the works, of course, that of guiding her only daughter, Reilly Marie, through her transition to adult life. 'She's in her final year in high school,' Roma tells me. 'I'm hoping that I'm raising a young woman who's able to go out boldly into the world with strength and self-confidence, and remembering always to be kind and gracious, and I am encouraging her now at this point in her life to spread her wings. She's going to be heading off to university in Boston, her life is opening up for her, and it's bittersweet, isn't it? Anyone who has raised a child knows that you've raised them to go off independently and yet you want to hold them close…and never let them go!'
Interviewing Roma brought home to me the incredible energy and drive that people like her have to succeed. Her beginnings were humble – a small house in Troubles torn Derry – and her upbringing marked by adversity – losing both parents by the age of twenty – and yet she has worked herself to a position of huge achievement and influence. When she landed in New York, she was broke and out of work. But it didn't dent her determination to succeed. She's an actor, author and producer and one of the richest people to come out of Ireland. She has retained her appetite for learning and further education and she is happily engaged in creating and driving new projects every year. I think it's a lesson in healthy ambition, self-confidence and the guts to dream bigger than everyone you've ever known. Roma's life is one of vision and aiming high – and she has certainly hit every target.