Durley House
Irish fashion designer Jen Kelly is big fan of this London hide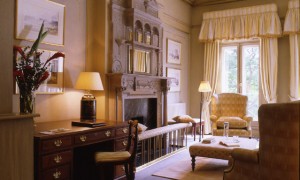 away. For a special treat book into one of the luxury suites at Durley House Hotel on Sloan Street, right in the centre of Knightsbridge. This is one of the most elegant hotels in London. Each suite is filled with antiques – an honesty bar and 24-hour room service makes it feel more like your own townhouse residence. Located at 115 Sloan Street, telephone: +44 2072355537; www.durleyhouse.com.
Irish connections in London are all important. Pop into Motcombs at the heart of Belgravia to rub shoulders with famous London-based Irish and other VIPs (Richard Dunwoody, Des Lynham, Chris Tarrant and Terry Venables are all regulars) – this popular Irish-owned bar and restaurant is an institution on the London scene – and great for lunch (upstairs from the bar menu if you want something light and tasty).  Telephone + 44 20 7235 6382; email info@motcombs.co.uk , 26 Motcomb Street, Belgravia, London, SW1X 8JU.
The Wolseley is the hot new venue in town – the brainchil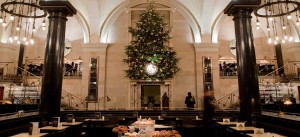 d of Chris Corbin and Jeremy King the successful duo who were behind The Ivy, Le Caprice and J Sheekey. The Wolseley has a fantastic location (right next to the Ritz) in a listed building (the former Wolseley car show room). The Wolseley serves brasserie-style food with strong Austro-Hungarian influences (Wiener Schnitzel, wonderful pastries) and is open from breakfast through to supper. Not sure we should tell you are little secret but the meeter and greeter is  Sean McDermott (much more than a doorman let me assure you)  is from you know where and its worth being really nice to him if you want to be well looked after. The Wolseley, 160 Piccadilly, Mayfair, London, W1J 9EB. Tel: + 44 207 4996996
A favourite of visiting and resident Irish the Groucho Club in London's Soho is Accordign to the Groucho Club's own web site in London is another favourite of the Irish crowd – managed by Mary Lou Stouridge, the Club is open to non-members who want to Membership to The Groucho Club is more exclusive than the SAS and nearly as tough to get in; more mysterious than the Mason's; with an initiation ceremony that would make a Ninja faint.
The Groucho Club is a stylish alternative venue for your wedding.  Our elegant and intimate private rooms can offer anything from a small lunch for 30 to fine dining and dancing for 300 and our Wedding licence allows us to accomodate up to 50 guests for the ceremony.Soho, with its bohemia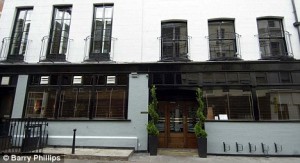 n history and working and living population of writers, artists and filmmakers was the natural location.  The club quickly became the establishment for arts and media folk and has become the benchmark for modern members' clubs.  The infamous Membership Committee has long been the fearless arbiters of whom is considered a suitable Groucho Club person.  Despite expansion and numerous re-fits the Club retains a feeling of always having been there.
As a thoroughly modern members' Club it offers breakfast, lunch, afternoon tea or dinner, wireless internet access, reception rooms to hold press conferences, book launches, concerts, exhibitions, parties or meetings.  The Club has nineteen bedrooms open to members and their guests, and is a home from home and office from office to many of its members.
The name of the Club was inspired by one of Groucho Marx's quips; he once remarked that: "I don't want to join a club that will accept me as a member"
The Groucho Club,
45 Dean Street,
London,
W1V 5AP
020 7439 4685